Welcome to MSM AMAZING BUSINESS FACTS. Today, we will like to introduce to you an investment firm registered in Ghana, whose main purpose is to support startups and growing businesses in Ghana and beyond financially.
FACT NO.1; Quick Angels Limited is the first official registered Angel Investment company in Ghana. Quick Angels limited is a fully owned Ghanaian ANGEL INVESTOR company established in 2019 under Section 24 of the Companies Code 1963 (Act 179) with registration No. CS067512019.
FACT NO.2; The company's prime focus is to support startups and business growth.
FACT NO.3; Their mission is to drive innovative commercial 'Angel Investments' that seek to propel Ghanaian startups and also restore promising businesses through strategic partnerships that exceed expectations.
FACT NO.4; They provide support in terms of expertise, experience and personal networks in exchange for ownership equity.
FACT NO.5; Quick Angels Limited is not a bank neither is it a micro finance. It's an investment firm. They do not also take deposits . They provide seed financing for startups ranging from $10,000.00 to $1,000,000.00
FACT NO.6; Part of their objectives is to rapidly expand existing businesses by making available the requisite capital and premium management expertise.
FACT NO.7; They are also dedicated to investing in indigenous startup businesses with the aim to provide strong financial returns and creating institutionalized entities over long periods. They believe this can be achieved by partnering already existing SME's identifying potential business ventures and to bear their premium expertise and strong financial base to bring rapid and sustained growth to these SME's and start-ups.
FACT NO.8; You can register with them now by filling the forms below.
https://docs.google.com/forms/d/e/1FAIpQLScyUTuvpTAWZcCK3thIr6V7QjOOoCrTWf3lm9OV1-jW3L8C4g/viewform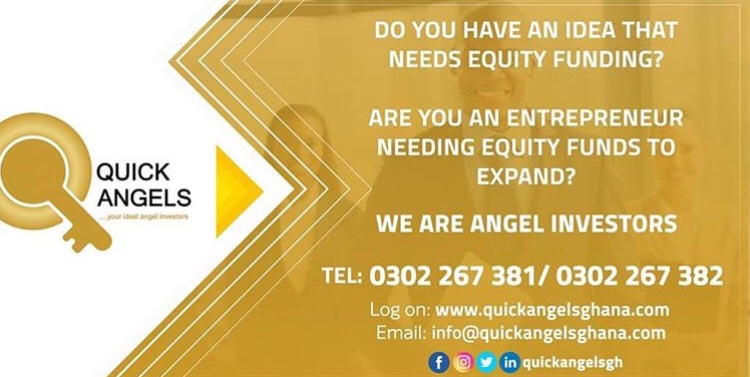 FACT NO.9; It is ran by a Young Ghanaian called RICHARD NII ARMAH QUAYE. Read more about him in our 4th Edition https://www.mystorymagazine.com/my-story-magazine-4th-edition/
FACTS NO.10; They won the investment category for the recent 40 Under 40 Awards.
Quick Angels Limited ; your ideal angel investors.