In our quest to building Africa with the stories of entrepreneurs, the MSM team chanced on a young lady, who is into toiletries and disposables. We had an amazing talk time. Enjoy the short interview we had with the ceo of Naakord Ventures.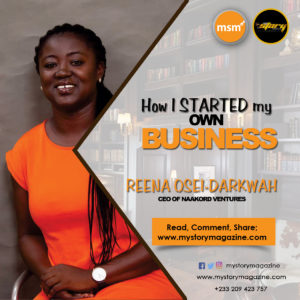 Kindly tell us a bit about yourself?
My name is Reena Osei -Darkwah, I schooled at Methodist University College of Ghana where I studied Human Resources Management. I'm the founder of Naakord Ventures. At Naakord ventures we basically deal in toiletries and disposables.
What stimulated your interest in entrepreneurship and why did you choose this particular work?
Growing up I never believed  in surviving with one job or work so the love of being an entrepreneur has been there for a long time,I chose this work because of the love I have for it and the joy you have when doing something on your own.
I remember last year I had a quotation from a company infact that was my first shot and I was so scared I wouldn't provide what they needed but because of the love I have for what I do I was able to achieve it within the given time.

What is your opinion about entrepreneurship in Africa. Do you believe it's the best solution to the problems of Africa?
As an entrepreneur, I believe that entrepreneurship can solve some of the problems we face in Africa but I always believe one needs to start from somewhere before one can be an entrepreneur. What I mean is, one should be given the chance to work under someone, gather funds, before you step into entrepreneurship.
People always say we don't need money to start something, but to makes things clear,  we should understand that what ever venture you would want to enter will determine whether you will need funds or not to start. Weighing both sides, you sometimes need a little or no money whiles on the other hand, you probably might need enough capital to start.
Where do you see yourself in the five years especially with this particular venture?
In the next 5 years I pray and wish to have many branches across the nation which deals in toiletries and disposables and if possible have a manufacturing house for  t-rolls, tissues and disposables.

Why have you not given up on this venture?
I haven't  given up because I love what I'm doing. Secondly, the support from my family and loved ones gives me the courage not to give up. The motivation from friends is simply amazing. Sometimes I receive calls from some friends who always pushes me not to give up but rather keep pressing forward. I  must say,  I'm very much convinced with what I do.
What's your biggest Challenge as an African entrepreneur? 
My biggest challenge as an African Entrepreneur has been the fact that chances are not created for people to see your expertise or talent. For instance, most big companies always look out for the very experienced but the question is how can you get experienced when you are not given chance to display the little skills you have.
What keeps you up each day as an entrepreneur?
As an Entrepreneur, there is no time to complain. We don't have time to be negative. There's only time for positive thoughts. For these reasons , I'm always ready for each day. It keeps me moving and compels me to do more.
I also draw more inspiration from my parents and a few friends. These keep me going no matter what I face.
What's your advice to young startup entrepreneurs? 
My advice for every entrepreneur is that it might look difficult if you start at fresh , but if you keep doing what you really want to do, there's nothing like difficultit's,  because every obstacle becomes a challenge to solve.