"I entered university of Ghana with just a shirt and a pair of trousers not knowing how I was going to pay my fees than to even talk of food and accommodation"
Jephery Kwabena Yeboah, CEO of Ripples Interior, a young entrepreneur and a final year student from the University of Ghana,Legon.
Jephery is passionate about life and entrepreneurship since he has his own experiences. He entered University without knowing how he would pay his fees,feed himself or even have accommodation. But by the grace of God, He is in his final year and was nominated for the MALE STUDENT ENTREPRENEUR in the recent Young Entrepreneurs Award 2017.
Part of his arts and designs is to brand used tyres into modern coffee tables as a way of helping society and the underprivileged. His enterprises focuses on gathering used tyres from vehicles. "I am inspired to create jobs for the vulnerable in our society. That's my passion and my big call, but I need more support financially. The challenge now is that I don't have a working space to operate to even start of. I do all these works in my room on campus and my phone happens to be interesting enough, my office. There's also a challenge with marketing and branding. We can't do business in darkness, I need help to create the awareness."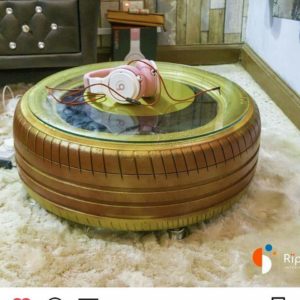 Like Share comment
#msm#mystorymagazine #theplatform