Meet an author, entrepreneur and a business executive who moved out of her comfort zone from Sweden to the United States  of America at the age of 19 to make her dream a reality.
After been trained in her mother's salon, she was skilled enough coupled with other training to lead the fashion industry in top companies from the USA.
She's a Ghanaian by birth lived in Sweden and now in the United States of America.
Kindly enjoy the story of EDWINA KULEGO, CEO of ESSENTIALS BY EDWINA.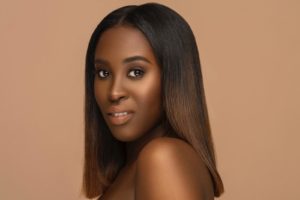 Can you tell us a bit about yourself? family, educational background
I was born and raised in Malmo which is the third largest city in Sweden. I grew up with my mother, Beatrice Morton and older siblings Mawule and Matilda in a house full of love, music and culture. Both of my parents were born and raised in Accra. In his early twenties my father, Mawuena Kulego, received the opportunity to study in Sweden and decided to make the move. After completing his education he brought my mother to join him in Malmo in 1984. My parents divorced shortly after I was born in 1988. I was essentially raised by my single mother who made it her mission to raise her children with humility, respect and a prominent education.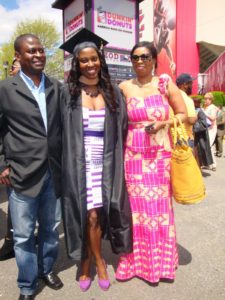 My mother was an extremely ambitions woman and a serial entrepreneur. She is recognized for opening the first salon and beauty supply store for Afro hair in the south of Sweden. While she was working several jobs to support her family, she invited my grandmother, Edith Odakor Lamptey to live with us and help raise us. I am so thankful that I had the opportunity to live with my grandmother because she taught us so much about our Ghanaian culture and most significantly, she taught us how to speak fluent Ga.
I was always very intrigued by travel and learning about new cultures. I grew up in one of the most diverse neighborhoods in Malmo and as a result I had peers from all over the world: Iran, Bosnia, Greece, Somalia, Eritrea, Thailand, The Philippines and the list goes on. When it was time to choose my area of study in Upper Secondary School, International Social Studies was an obvious choice. The curriculum was multilingual so I had a unique opportunity to advance my English and add two additional language courses: French and Spanish. During my 3 years in Upper Secondary School I participated in an exchange program in Nantes, France and conducted a study on the Catalan Identity in Barcelona, Spain. These pivotal moments gave birth to the global and multilingual citizen that I am today.
I travelled to New York City in 2007 and furthered my education at Berkeley Collage with a major in International Business.
How was your childhood and growing up like. Would you say it influenced your choice of a career path?
When I reflect on my childhood, I smile. I grew up in a safe country and environment where kids could play outside freely without being concerned about danger. Sweden is known for its incredible welfare system and for being one of the safest countries in the world. Now I realize that my childhood security made me naïve in many ways. When I moved to the vibrant and busy city of New York by myself at the age of 19, I quickly noticed that I had to be more careful in how I presented myself and maneuvered. I was very careful of my environment and made sure that I kept myself surrounded by positive and ambitious people.
Growing up in the most diverse city in Sweden definitely ignited my passion for international travel and culture. I also spent a lot of time working with my mother in her store and helping her build her business. The priceless training I received from supporting my mother birthed my enormous passion for business.
 Can you share your story with us?
From where you started in your career and how you finally ventured into the International Business Development field?
I moved to New York City in 2007 with a student visa. I initially started my College education as a fashion major but quickly realized my passion for International Business and changed my major after only one semester. I was still very interested in learning about the Fashion industry and since I couldn't work (for pay) under my student visa I decided to focus interning for fashion companies so I could gain experience.
My first internship was at Essence Magazine. I remember walking into the office for the first time and seeing all of these beautiful and professional corporate black women working in one space. It was life changing. As you can imagine growing up in Sweden, I didn't have any black role models to look up to; I never had a black teacher or doctor. Realizing this contrast was an important and pivotal moment in my life. I was no longer the token black girl and it felt great.
After interning in the Essence Fashion department for almost a year I ventured on to work for Andy Hilfiger at Tommy Hilfiger in the Fashion and Entertainment department. During this experience I learned how to coordinate a New York Fashion Week show, which was a major undertaking. I learned first hand about the amount of hours and stress it took to produce a show on that level. Andy Hilfiger taught me the importance of staying true to who you are in a dynamic industry like Fashion and having fun while you are working.
My final internship, which led to the International Business Development role that I am currently in, was at PROJECT Tradeshow. I didn't know much about the trade show industry before I met Sharifa Murdock. At that time she was the Sales Director at PROJECT, the leading mens fashion trade show in the U.S. She took me under her wing as an intern and taught me the ins and outs of the business. After a year, I was promoted to Executive Assistant to the President of the company. I continued moving up in the company and worked as the Business Coordinator to the CEO at that time, Tom Florio. This role was definitely the most challenging one yet. Florio who was the former Publishing Director of Vogue Magazine operated on such a high level that I hadn't encountered before. The long office hours, constant travelling and constructive criticism forced me sharpen my skills. I was determined to win in this role. In hindsight, I realize that Florio was a leader that showed tough love because we wanted me to be more efficient and effective. I admire him for his determination to make me better. After years of working in International Sales I eventually landed the International Business Development role that I operate today. This role involves helping international fashion brands create pathways into the U.S market. Over my 8 years at UBM Fashion I have had the opportunity to work with emerging and established brands in various categories such as men's, women's, children's, accessories and footwear. I truly enjoy working with brands and helping them attain their goals.
In 2016, I ventured into entrepreneurship and launched my cosmetics brand, Essentials By Edwina, in collaboration with Celfie Cosmetics.
A true labor of love is what I call my company. Everyday I wake up feeling motivated to create positive solutions for women. Our products are vegan and cruelty free lipsticks for the everyday woman who loves to look her best. We recently joined Essence Marche which is an e commerce platform powered by Essence Magazine to support black female entrepreneurs. We are very excited about this partnership and many others in the pipeline. I never thought I would be working in the beauty industry but I believe that the time I spent in my mothers salon helped me develop my passion for making women look and feel their best.
What will you say motivates you?
When I think about my grandmother and my mother's journeys; two ambitious entrepreneurs who supported their families through hard work and determination, I cannot help but feel motivated. I realize that I come from a bloodline of extraordinary women and I am committed to paying that forward. Especially now that I am a mother to my 7 month old daughter, Legacy Naa Elinam Carter.
What are some of your greatest fears and how have you dealt with pitfalls and setbacks?
The fear of failure is inevitable; some people allow their fears to hinder their growth, I choose to let my fears motivate me to win. It's of course not always easy to overcome fear but I try to remember the past challenges that I've won in order to push forward.
I remember working on a high level strategy document for my former boss at PROJECT. I made a mistake by not carefully proofing the document before submitting it. The strategy was immediately forwarded to our CEO and you can imagine the embarrassment I encountered when the mistakes I overlooked were noticed. I not only embarrassed myself but I embarrassed my boss. After that incident, I promised myself to always double, triple check my work before submitting it. That promise and guideline has helped me tremendously in my career.
What are some of your greatest regrets? If given the chance, how would you do things differently? 
I don't regret much because I realize that living in regret doesn't improve my life however, I will say that I wish I could've spent more time with my grandmother before she passed away in 2014. I was fortunate to spend her last two weeks with her and I am forever grateful for those precious moments.
What have been some of your greatest accomplishments?
If you would've asked me this question a year ago I would say that it was moving to New York at the age of 19 and building a career that I love. However, now that I have a daughter, I definitely know that my greatest accomplishment is becoming a mother. I have never felt more alive and purposeful. It's indescribable and so rewarding; the best job in the world.
I respect and admire working mothers so much more now that I know the challenges that we face.
What are some of the principles, philosophies and values you ascribe to?
Cheap things cost: don't take the shortcut to success, put in the work.
Nothing works unless you do: a goal without action is a wish.
Assume positive intent: stop going through life thinking that everyone is against you. Focus on the positive and watch your life evolve from darkness to light.
Support others: there is blessing in giving and helping others.
Can you mention three books you have read and how they changed your life? 
Break Out by Joel Osteen
I was going through a tough transition in my career life when I began reading Break Out. It taught me to be fearless and to understand my authority as a woman of God. The book highlights the importance of seeing the constant positive in temporary negative situations. I highly recommend this book to anyone going through hardship and transition in life. I have read it several times and will continue to do so.
The Better Business Book by Authors Unite
I had the pleasure of being a co – author in this incredible business book launching on November 27th, 2018. Imagine if you could have one business book to always have by your side and reference whenever you need to. That's The Better Business Book. It's your one-stop shop for crystal-clear business advice that you can use to grow your business. It consists of 100 people each sharing their most valuable business lesson. I am very grateful to be one of them with my chapter called: "Boldly Crossing Borders: 7Steps To Successfully Navigating International Business."
Own Your Glow by Latham Thomas
I received this book right after giving birth to my daughter. At this time I was experiencing various emotions and an unusual amount of anxiety. The pressures of being a new mother and being responsible for another person's life were getting to me. Own Your Glow helped me to organize my thoughts and feelings in order to seize the day. I think it's a wonderful book for anyone who is searching to grow within themselves.
What do you do for leisure and socialization?
My father's side gig and passion was DJing. He was one of the biggest DJ's in Sweden in the late 80's. As a result we grew up with so much music in the house. I really enjoy listening to music and attending concerts. I enjoy travelling and seeing the world; it is something that feeds my soul. I used to be a competitive swimmer and swimming instructor when I was younger so I love spending time at the beach or in a pool.
There has been an increase in entrepreneurship across the continent and the globe from small scale enterprises to large corporations. What are your thoughts on it? Do you think it's the best way to solve some of Africa's challenges and improve the lives of people?
As soon as I arrive in Accra and leave Kotoka airport I see nothing but entrepreneurship. There is literally an entrepreneur on every corner selling something in order to make a living. Whether it's water, food or someone offering to wipe your car windows. That is entrepreneurship in its Essence; these individuals are taking on financial risks in the hopes of making profit. I think the idea of entrepreneurship has become cool and trendy over the past couple of years. I see the promotion of entrepreneurs and entrepreneurship on a daily basis on social media platforms such as Instagram and I think that it's deceiving to many young and inexperienced business people.
The idea that entrepreneurship is easy is false. Technology has definitely helped promote and support many entrepreneurs however there is still an immense amount of work and dedication required to become a successful entrepreneur with longevity. In my opinion, the best way to solve some of Africa's challenges is to make education and work experience such as internships more accessible. The more experienced and educated our youth is, the higher our chances are of having purposeful and prominent business leaders in the continent. I always think of how much Africa would evolve if African's who lived abroad (like myself) would take their resources, expertise and education back to enrich the people of the continent. Don't get me wrong, I am not stating that Africans abroad have more to offer but I do think that the approaches to business learned overseas are different and there is always value in learning from each other.
My goal and promise to myself is to spend more time in Ghana supporting young business people with the experience and education that I've learned over the years. I feel a strong calling to go back home with a plan and purpose.
What will be your advice to others especially the youth about the effects of comfort zones and on the importance of entrepreneurship?
Success isn't birthed from comfort zones. When I decided to move to New York and study in College at the age of 19 many of my friends in Sweden projected their fears on me and tried to convince me to stay (in my comfort zone) I knew that there was something bigger for me out there and I trusted my calling. As I become older I am learning the importance of being brutally honest with myself; facing my fears head on.
Entrepreneurship is important if that is your passion and desire. Ask yourself: am I comfortable with working for myself? Am I the type of person that likes flexibility or stability? I think its ok to admit that you don't desire the high risk and fluctuation that comes with entrepreneurship. Being honest about the type of business person you are will save you a lot of valuable time and money. I am a hybrid; I enjoy my corporate job and learning how to run an organization but I also love entrepreneurship and am extremely fulfilled by it.
My advice is to look yourself in the mirror and ask yourself the brutally honest questions in order to determine your path.