Meet Evelyn Groeling, founder of KinderHilfe Ghana a registered social enterprise based in German, a charity organisation which was set up to help the deprived in the society.
Evelyn is a 33 year old married woman with two kids, a boy and a girl, married to her German husband called Andreas Groeling , who has been very supportive of the charity project. She was born in Ghana but currently based in Germany as a citizen, her foundation solely supports individuals from Ghana.
She's also self employed owning an Afro shop in Germany and also sells African prints and wears .
You can check out more https://eves-collection.jimdo.com/
https://www.facebook.com/evesafroshop/
She currently completed a 7 seater toilet facility for a school in tarkoradi, which accommodates 500 pupils and 15 teachers.
She has also been doing other things in supporting communities and the less privileged people and hopes to doing more in the coming years.
In an interview with the MSM team, this is what Evelyn had to say :
How did it happen ?
Last year May I was at the school
and wanted to do a random donation so I quickly gave the school some learning materials and later asked what their difficulties were and they told me, for the past 8 years the school was without any toilet facility.
So I just replied ok and left without a trace. I came back within 11 months to do the project.
That was a big facility. How did u get it done?
Thank you 🙂
I had a support from family back here in Germany and some friends.
I did a fund raising in my house for the children
How was your childhood and growing up like. Would you say it influenced your choice of a career path?
I am a business lady, I own an afroshop in Germany. My childhood was something that sharpened me very well in life, my mom was a single mother so she always had to make me handle her business at early age, my dad died when I was 3 years old, so growing up was something I experienced without a father.
It did influence me a lot, my mom used to sell second hand clothing so I always helped her in the market, after school or weekends or even been sacked from school for fees I will use the opportunity to sell too. I became someone who loved trading at an early age.
With Schooling I attended Young Christian Primary and JSS at Takoradi, from there to Takoradi Senior High School,after I went to NIIT At Takoradi. Due to lack of financial support, I couldn't pursue further so I started working at an early age
Moving to a new country was a hectic thing I ever experienced in my life because way back in Ghana I was having my own business that I used to supply and sell ladies wear at Takoradi.
I was into buying and selling.
But coming to Germany with a different culture and law things didn't seem to be how I planned when coming, I wanted to own African restaurant but I was asked to do some test and also go to school for some certificate but I didn't like the idea. After i had my first child, I started selling African wears for kids but due to the weather and season out here business wasn't moving fast so then I sat and thought again what I could do to make my business move faster, I then started doing people's hair . I'm actually a multi talented lady, I never learnt hair dressing work before but I picked things very fast, I'm very creative too.
I used to do my own braids, people kept on asking who made it for me and told them I dux it myself. I then opened a salon and started operating in my house.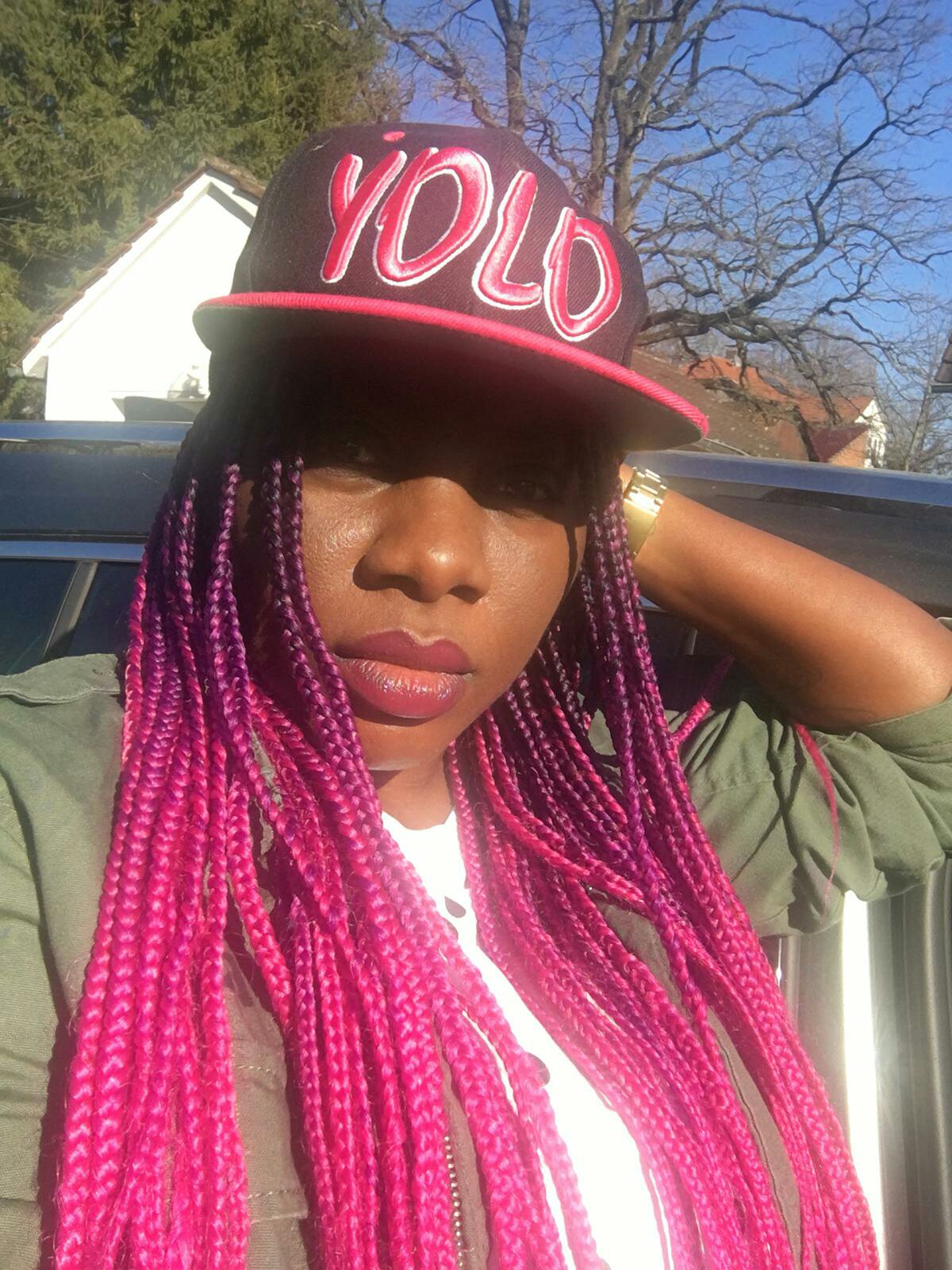 I added the hair dressing work to the African wears for kids which made my business grow more rapidly. I also do sell Ghanaian meals but just during occasion time or events.
This is how my business started
How was the feeling like, growing up n just knowing ur mum. How was the feeling like when they broke the news to you about your dad?
The feeling was something mutual because my mom trained me to be a strong independent person, I took whatever they told me to be part of life journey! I'm the last born of my family.
What will you say motivates you to do all these?
Hmm the things my mom passed through, when she lost my father. So in all I will say my late mother
She motivates me even though she is no more alive but whatever I'm doing was by her steps in life.
Let's talk about your foundation
What are some of the projects you've done so far apart from this major one?
I remember supporting two siblings who used to exchange sex for food out of the street https://www.facebook.com/JoyNewsOnTV/videos/1887151274690103/
, paid some students fees, giving learning materials to some schools, paid some extra fees for other final jss students, donated some foods stuffs to teachers.
My foundation is now getting to a year.
But we have done so well at the moment
Our certificate was given to us just last year in Germany.
But before that I have been doing charity work privately with my own money without people noticing till bringing it to lime light . It's something I love doing from my heart.
How was the response towards your current project. How did the head teacher the community leaders embrace it after its completion?
They where very happy especially at the beginning I had no time to meet the elders and had to go back to Germany.
So this time when I returned, they were ready to receive me thus to see the personality giving helping hand to the community.
it's very sad seeing kids going to the Bush.
It was a 7 toilet room detoriated.
So I made 6 rooms for them thus
2 for the teachers and 4 for the kids and one room was used as a storage room.
The whole project took 10 days for completion.
What's your final words to the public n everybody especially in the diaspora and Ghana ?
I will encourage the young women out there not to sit and feel discouraged about their dreams or something positive they have in heart or mind that will help their communities but they should keep on pushing and supporting themselves to be more able to go forward in life!
Also the young generation shouldn't be depending on government for everything but rather focusing on themselves, because the saying goes that " together we are one" same as when we give a helping hand , our communities become a happy home for us all.
You can follow the foundation at http://www.ghanahelp.org/index.php/startseite.html
https://www.facebook.com/KinderhilfeGhana/
https://www.facebook.com/134831493869319/posts/288742775144856?s=100001794263809&sfns=mo