Mrs Mimi ElBernard is a profound communicator, a brand architect, diversity maverick, an advocate for women and the Founder and Chief executive officer of Concept 360 Events Ltd.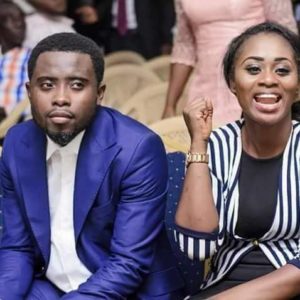 She is happily married to one of the nation's leading clergy men; Prophet Bernard Elbernard Nelson-Eshun
She holds a degree in Human Resource Management, a diploma in Journalism and Media studies, Certificate in accounting and a certificate in administration and management.
Mrs Elbernard is committed to nurturing and empowering the next generation of female leaders. Known for harnessing the power of women to move businesses forward, Mimi injects enthusiasm and accountability into these young women to create engaged, high-performing, and cohesive structures in their lives and businesses.
She is the host of The Prophet's wife, a candid talk show which shows on Facebook and Youtube and is set to debut on TV later this year.
The show addresses issues faced by Women of God and women married to men of God and seeks to provide pragmatic insights into how these magnanimous women will scale their ever daunting tasks and excel at it.
She runs a Scholarship scheme that facilitates payment of fees for brilliant but needy University students with her husband.
Mimi is a true 21st Century business and religious leader who pushes the boundaries of traditional business approaches in emerging markets to reinvent, re-imagine, and amplify a company's brand and performance. Source: http://www.mimielbernard.com
Momsi as popularly called by members of SRM happens to celebrate her birthday today 27th March, 2019 . It's such a memorable moment as some members shared their joy to Her Royal Empress.
"To a woman who has a big big heart, at this young age you solve the most complicated issues with ease. I used to love you but now I'm in love with you. A prophetess, a Ceo , a wife ,a mother and above all a woman with a heart of gold. I am convinced you will become what God wants to use you for. love you Mrs Mimi Elbernard" – Mrs Vera Norman Addo
"Happy birthday to a woman with outstanding strength.
One who is full of love and generosity
A woman I so admire and deeply respect.
The Empress, Mimi Elbernard!
God will bless you beyond your comprehension Momsi!
I love you so much!" – LADY RAJJ
"Beautiful hearts like yours surely rotates the world on its axis
You exude beauty and light in the world of darkness
As you celebrate another milestone today , know that the heavens are rejoicing with you and showering your life with infinite blessings to do the work of him that has called you.
In your coat of many colours, others will find their purpose and destinies
Shine forth Momsi. Love you eternally
Regards,"- Jenny❤
"They say there is no such thing as a mother! And I'm beyond grateful you are my Mother! On this special day I wish you the very best of life! I pray your dreams and visions come to pass! The Lord will always be your light and your salvation! Long life, prosperity, good health, abundance is your portion!
I want to thank you for all the love and support and words of wisdom over the years ! I'm so grateful to have you as my Momsy! You are the realest! I love you ?
Your crazy daughter," Sandra Afi Tshibaka
From Miz. Polka with ?
"My best, I have a lot to say about you but I will just say few,
On this day, I pray from my heart that God takes you to a different dimension in your ministry. God keep you for us, you will never ever cry for sorrow but only for joy.
You mean so much to me, you've taught me how to be a real lady, how to handle myself and walk right with God.
Gosh! you make life feels so easy, you make me believe everything is possible with God.
You care so much, about me and my family, you give without having any second thought.
I definitely want to be like you when I grow.
I want you to know that I will make you proud, I will never disappoint you.
Thank you for making me part of your family, ministry and life.
Thank you for tolerating me and for correcting me and not rejecting me.
You're so fun to be with and very firm too.
I don't know how you do it but you're really doing well
Happy birthday my prophetess
Happy birthday my prophet's wife
Happy birthday my love
Happy birthday my best.
I love you so much ?-" Suzet
"Just to say thank you and I appreciate you very much,Mrs Mimi El-Bernard Nelson Eshun. Your arms are always open to everyone,you put a smile on every persons face especially mine each time I'm in contact with you. You're such a great inspiration to me. Beautiful,elegant,selfless,gorgeous,fashionable,intelligent and ever sexy ? mother of all. Thank you for calming me. Thank you for making me a better person. Thank you for being there for me. Thank you for always having my back. Thank you for checking on me,asking me if I'm ok when I have a long face on at church and putting across a joke just to make me smile again. Thank you for the opportunities to speak to our Spiritual Father,Prophet Bernard El-Bernard Nelson Eshun, even when he was busy and I needed him. May God look over you in this new phase of your life. Your legacy will live on. May God grant you all of your heart desires. Great testimonies are on your way…. AMEN !thank you for your posts,they teach me a great deal of wisdom. Don't stop being you. I love you Mrs Mimi El-Bernard Nelson Eshun. ? HAPPY BIRTHDAY" ? – Yaa Baidu
"Today marks the day a Queen, a priceless gem, and a woman of great legacy was born. Prophetess Mrs Mimi ElBernard Nelson Eshun, I am thankful to God for preserving and ushering you into this new season of your life. You have indeed been a great blessing.
Through your exemplary life, you have modelled and demonstrated attributes of not just a Provebs 31 woman but also a staunch believer that is worth emulating. Since our first encounter in 2015, your impact on my life has been indelible. Your words of counsel and encouragement have been full of wisdom and uplifting to my spirit, and I am sincerely grateful to God for the opportunity to know you. You have been an epitome of great humility and a Godly woman. Today i celebrate you with Love from" Dr. Jemimah Tee-Sowah
"Proverbs 31:26-28 KJV
[26] She openeth her mouth with wisdom; and in her tongue is the law of kindness. [27] She looketh well to the ways of her household, and eateth not the bread of idleness. [28] Her children arise up, and call her blessed; her husband also , and he praiseth her.
You are a strong Woman. Your love for us is amazing.
Thank you for the support, care, rebuke towards us as a mother. Many lives have been blessed because of your ministry. You are an indispensable part of the body of Christ. May God bless you with his boundless love, calming peace and heavenly joy throughout this year. Happy birthday Woman of Honor."- Maame
" A journey of greatness , a life of wonder , an excellence of love ,a heart of joy . A woman such confident but yet humble, anointed but yet humble, graced with wisdom but still humble. On this day I pray for more of God's love to fill your heart for the rest of your journey. Happy Happy birthday MUMMY" – Mr Tony kwashie
Happy Birthday Momsi, God richly bless you.