A self narrative if Captains shipping and logistics llc by the co-founder Mr Richmond Kyei Baffour.
"Captains shipping & Logistics LLC is one of the most experienced forwarding and logistics companies in all types of integrated logistics services on a worldwide basis. We are a "total" freight forwarding company.
We can ship everything from small packages to big loads (cars, building materials , clothes , food commodities for both human consumption and animals,farm equipment and road construction equipment, cosmetics , electronics) to any destination all over Ghana and Burkina  Faso from the USA.
Captains shipping has been a leader in the freight forwarding business by offering a more " personalized" service. We dedicate our resources to the continuing development of systems and procedures with the capacity and flexibility to meet each client's specific logistics requirements.
Built on our heritage in transportation, Captains shipping and logistics develops supply chain solutions through the innovative application of technology to a full range of logistics services .
Through every stage of our business, it is the Captains shipping's team that makes the final difference. We bring the human factor of planning, decision making and customer service – of caring about what we do for our customers. Our philosophy is people first – at Captains shipping we prioritise our clients and our suppliers.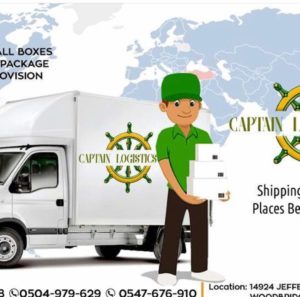 Captains Shipping and logistics improves your asset utilization and sharpens your competitive edge by leveraging its expertise in transportation and supply management. Our dedication to our customers is supported by our people, our integrity and our service.
Our core competence internationally is the forwarding business to Africa (Ghana, Burkina Faso )from America( Virginia, Maryland ,Washington DC,Texas Temple areas. We are present in all these states through our Alliances and attractive logistics services.
You can reach through to us on;
+1 (202) 285-5698‬ Nanayaw , Virginia Woodbridge
‭+1 (404) 667-3134‬ Commissioner
Georgia, Chelsea Park Ln Norcross .
Ghana Richmond Kyei Baffour. 0248209582