A SELF NARRATIVE OF THE  Ceo FOR EMEMAT EVENTS AND DECOR, an amazing start-up business doing well in the area of events.
I'm Maame Yaa Akyina Baidu,a graduate from the University of Professional Studies and I'm 22 years of age. I'm the 3rd child of 5 children. I'm a go-getter and I go every length to get work done especially through prayer and associating with successful people. I'm self-motivated and keep my head up always regardless of the situation at hand,whether I'm losing or gaining with the believe that I'll make it. I get stressed when I'm not able to complete my tasks or targets. I'm usually a deep thinker and I get bothered a lot about the things I can't do or accomplish 100% of the time.
As a young entrepreneur, I've always wanted to gain financial freedom and to be in control of my own activities. I believe when you are in control,you ensure that everything you're doing should be accurate to be able to derive your desired results. That way, you blame yourself when you don't put in much effort to achieve your goals. Also,the flexibility as an entrepreneur, you work within your own pace, in line with achieving set targets. I also want to leave a legacy for the generations that will come after me.
I chose the Events sector as a start-up because I'm the outgoing type and I love to create beautiful stuff for myself, so I decided to take advantage of that part of me.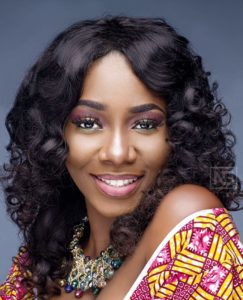 As the founder of Ememat Events and Decor; we provide both products and services for all events. We also do rental services,decorations and event planning advice or consultancy.
As an African entrepreneur, I strongly believe entrepreneurship is one of the solutions to some of the problems in the continent. Through the diverse use of individual ideas, we can help create goods and services which can satisfy human demands or wants.
In the next five years, I'm looking forward to developing a great Events company that will thrive in the face of competition, create opportunities for others to learn and develop new skills. I see myself taking on as many complex projects in relation to my Events business as well as other businesses I intend to create. By the end of that period, I want to also say I've built lasting client relationships. I want to say by then,that I'm one of the best entrepreneurs of the time in Africa.
Becoming an entrepreneur has it's own challenges, my biggest challenge as an African entrepreneur is financial constraints. If not for a good home and with support from some reputable friends, it is indeed very difficult to start up a business in Ghana and Africa but few reasons why I haven't given up are;
A. Ask yourself,if you give up then what ? Do you get what you want ? No! So why give up then ?
B. Bare in mind, right before your success blooms, there must be your dark moments(your tough/rough times)
C. Right before you give up,know that you're just closer to your success story than you thought.
D.Committment
E. I always tell myself once others have done it,sustained and made it, then it's a proof that I can also do it.
The drive then to make good money every day kicks me out of bed. If I get out of my bed/my house to meet you up, it means I'm about my money and even if I'm out for fun, I make sure I'm still making money from my job or other businesses. My wildest dreams of becoming a billionaire by 25 years which I believe can become a reality through hard work,prayer and commitment is the only reason I'll be up by night.
With respect to funding, I funded my business from my personal savings after university .
Though I'm getting good response with what I do, I wish I had built a relationship(one person at a time) with my clients before starting business with them.
I also wish I got to know how to manage cash flows properly but because I was eager to start a business of my own, I just started buying the stuff i needed for this business.
Amidst all these I say one word that i can use to describe myself as an entrepreneur is Perseverance. And my final advise to other up coming entrepreneurs is that, When you are fighting the fight,you will get knocked down. The one who wins is not the one who only avoids the punches but also keeps getting up and keeps fighting day in day out. It's all about learning from each time you get knocked down,getting smarter and rolling with the punches. When you keep moving forward,you eventually get to your goal (Joe Apfelbaum)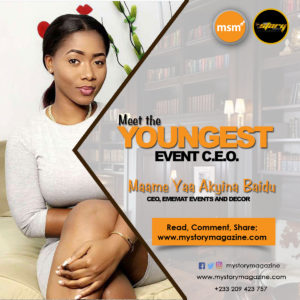 My greatest inspiration as an entrepreneur has been my mom and the fact that every day is a new day which presents to me various opportunities especially when I'm aiming at building a whole business empire. You never know what's going to come and as a big risk taker,I get really excited when I'm graced to wake up. "