Reset Global People in partnership with the SDGS office at the Office of the President of Ghana and Avance Media have announced the second list of the Top 100 Women CEOs in Africa for 2021. With the inaugural list announced in 2019, this publication throws the spotlight on African women leading various organizations across the continent.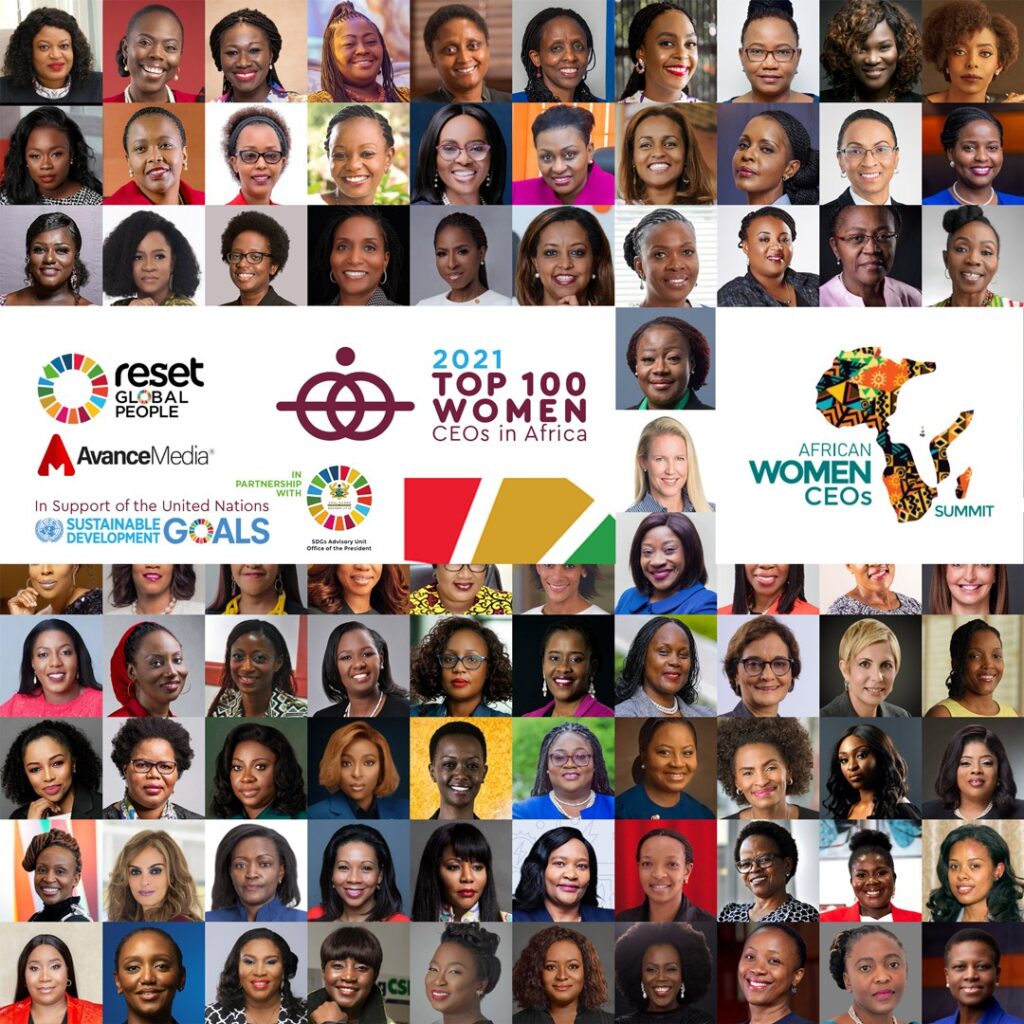 The list features leading African women CEOs from 21 African countries heading various organizations that continue to excel under their leadership on the continent and beyond. The list is also released ahead of the 2022/23 African Women CEOs Summit to be hosted in Johannesburg, South Africa.
Speaking about the list, Kwame A.A. Opoku, CEO of Reset Global People noted that, "
Women are a powerful force for change. They're one-half of the potential human capital in any economy. More than half a billion women have joined the world's workforce over the past 30 years; they make up 40 percent of the agriculture labor force and more than half the world's university students. In fact, a recent McKinsey Global Institute study found that global GDP could increase by $12 trillion by 2025 by advancing women's equality. The truth is it's everyone's issue. From ending extreme poverty to countering violent extremism, we cannot succeed without women and girls and this is why we are excited and privileged to announce the 2021 List. These are extraordinary women who are leading the charge to transform our continent and deserve the spotlight more than any one"
For centuries, African women have been grossly denied leadership positions, a narrative that is steadily changing across the continent. From climbing corporate ladders to running successful businesses, these outstanding women continue to demonstrate great leadership as head of various organizations and companies across the continent.
Speaking on criteria for selection, Prince Akpah, MD of Avance Media mentioned the team considered the size and importance of the woman-led business in the economy, the health and direction of the business, the arc of the woman's career (résumé and runway ahead), and social and cultural influence. Eligibility is also based on the geolocation of the business and also highlights profit, impact and sustainability and the overall influence of the individual women over their sector, industry and community as a whole.

The list features some prominent names including Clare Akamanzi, Dr. Rasha Kelej, Owen Omogiafo, DentaaAmoateng, Tiguidanke Camara and Meta Africa's head NunuNtshingila-Njeke.
Below is the list of 2021 Top 100 Women CEOs in Africa arranged in alphabetical order
1. Abena Osei-Poku || Absa Bank Ghana
2. Abimbola Alale (Dr.) || Nigerian Communications Satellite
3. Abiola Bawuah || United Bank for Africa (UBA)
4. Adoma Peprah || Visa Ghana
5. Agnes Kalibata || Alliance for a Green Revolution in Africa
6. Albertinah Kekana || Royal Bafokeng Holdings Pty Ltd
7. Alice Kilonzo–Zulu || Ecobank Rwanda
8. Aminata Kane Ndiaye || Orange Sierra Leone
9. Amy Jadesimi (Dr) || Lagos Deep Offshore Logistics Base
10. Anita Erskine || Anita Erskine Media
11. Anne Juuko || Stanbic Bank Uganda
12. Baronice Hans || Bank Windhoek
13. Bénédicte Janine Kacou Diagou || Groupe NSIA
14. Bethlehem Tilahun Alemu || soleRebels
15. Betty Korir || Credit Bank
16. Bukola Smith || FSDH Merchant Bank
17. Carole Kariuki || Kenya Private Sector Alliance
18. Christine Baingana || Urwego Bank
19. Clare Akamanzi || Rwanda Development Board
20. Claudia Lumor || Glitz Africa
21. Dentaa Amoateng || GUBA
22. Deola Art Alade || Livespot360
23. Diane Karusisi (Dr) || Bank of Kigali
24. Dupe Olusola || Transcorp Hotels plc
25. Eleni Gabre-Madhin (Dr) || blueMoon
26. Eliane Houphouet-Boigny || MTN Guinea Bissau
27. Esselina Macome || Financial Sector Deepening Program
28. Ester Kali || Letshego Namibia
29. Esther Cobbah || Stratcomm Ghana
30. Fatima Beyina-Moussa || Equatorial Congo Airlines
31. Florence Larbi || Zoomlion
32. Frehiwot Tamru || Ethio telecom
33. Funke Opeke || MainOne
34. Funmilayo Omo || Enterprise Life Nigeria
35. Gifty Anti || GDA Concepts
36. Gwendoline Abunaw || Ecobank CEMAC
37. Ibukun Awosika || The Chair Centre Group
38. Ifeyinwa Ugochukwu || Tony Elumelu Foundation
39. Ireti Samuel-Ogbu || Citi Nigeria
40. Jackie Chimhanzi (Dr) || African Leadership Institute
41. Jasandra Nyker || Nala Renewables
42. Juliana Rotich || Ushahidi
43. Juliet Ehimuan || Google Nigeria
44. Kadijah Amoah || Aker Energy
45. Kate Fotso || Telcar Cocoa
46. Keabetswe Pheko-Moshagane || Absa Bank Botswana
47. Kendi Nderitu || Microsoft Kenya
48. Kim Schoepflin || Kwatani
49. Kofo Akinkugbe || SecureID
50. Kosi Yankey-Ayeh || Ghana Entreprise Agency
51. Leila Fourie || Johannesburg Stock Exchange
52. Lorato Morapedi || National Development Bank
53. Lowani Chibesakunda || Citi Zambia
54. Mansa Nettey || StanChart Ghana
55. Mariam Kane-Garcia || Total Energies South Africa
56. Massogbè Touré || SITA
57. Miriam Olusanya || Guaranty Trust Bank
58. Mitwa Kaemba Ng'ambi || MTN Rwanda
59. Mizinga Melu || Absa Bank Zambia
60. Mo Abudu || Ebonylife Group
61. Monica Musonda || Java Foods Limited
62. Nabou Fall || Vizeo
63. Nadine Tinen Tchangou || PwC in Sub-Saharan Francophone Africa
64. Naike Moshi || Women in Management Africa
65. Nancy Matimu || MultiChoice Kenya
66. Nancy Muhoya Ng'ang'a || EY East Africa
67. Nasim Devji || Diamond Trust Bank Group
68. Nathalie Munyampenda || Kepler
69. Nezha Hayat || Autorité Marocaine du Marché des Capitaux
70. Ngalula Sandrine Mubenga || Electric Regulatory Agency
71. Nneka Onyeali-Ikpe || Fidelity Bank Nigeria
72. Nunu Ntshingila-Njeke || Meta Africa
73. Ola Brown || Flying Doctors
74. Oluwatomi Somefun || Unity Bank Nigeria
75. Owen Omogiafo || Transcorp Plc
76. Patience Akyianu || Hollard Ghana
77. Patience Mutesi || TradeMark East Africa
78. Patricia Obo-Nai || Vodafone Ghana
79. Philisiwe Mthethwa || National Empowerment Fund
80. Phuti Mahanyele-Dabengwa || Shanduka Group
81. Racheal Njoroge || Cummins Southern Africa
82. Rasha Kelej (Dr.) || Merck Foundation
83. Rebecca Enonchong || Apps Tech
84. Rebecca Mbithi || Family Bank
85. Rebecca Miano || KenGen
86. Reni Folawiyo || Alara
87. Roberta Annan || Annan Capital Partners
88. Sarah Arapta || Citibank Uganda
89. Sherin Naiken || Seychelles Tourism Board
90. Shirley Machaba || PWC Southern Africa
91. Sola David-Borha || Standard Bank Africa
92. Susan M. Mulikita || Liquid Telecoms Zambia
93. Taelo Mojapelo || BP Southern Africa (Pty) Ltd
94. Tara Fela-Durotoye || House of Tara
95. Teju Ajani || Apple Nigeria
96. Temie Giwa Tubosun || LifeBank
97. Tiguidanke Camara || Tigui Mining Group
98. Toyin Oluwatoyin Sanni || Emerging Africa Group
99. Uche Ofodile || MTN Benin
100. Yvonne Manzi Makolo || RwandAir