Meet an amazing young lady from Ghana who is doing well in the fashion industry. She brands beads into fashionable necklaces,earrings etc. She uses this medium to train other young ladies through this she's been able to have the audience with the second lady of Ghana, Mrs Samira Bawumia.
She's got an amazing thoughts to share about her life and her works. Be inspired with this amazing interview she had with the MSM team.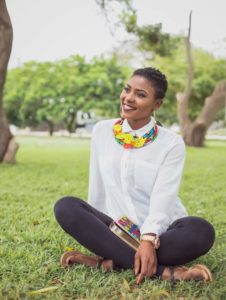 Tell us about yourself.
I am an African from Ghana, a simple, naturally inspired, self motivated and a positive minded person. A young passion driven entrepreneur, read molecular biology and biotechnology at the university of Cape Coast who discovered her talent and creative abilities after her national service. I Come from a family of five and I'm the only girl. My name is Portia Nana Adjoa Amanor. I'm currently the Founder, C.E.O and creative director for Nadjoa Accessory Brand.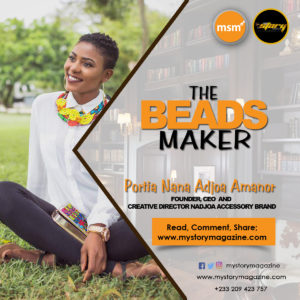 What stimulated your Interest in Entrepreneurship and why did u choose this particular work?
My interest as a positive person has always been to engage in activites that dares and challenges me to make a difference, develop myself and also develop others, most especially young girls through entrepreneurship. Although i read science in school, I found interest in making and selling fabric earrings and brotches. A skill I acquired from watching a fashion student who used to make them for me to sell. With creativity, I incorporated beads into the fabric work. I found out working with beads gave me much satisfaction as compared to working with fabrics
What are some of the services you provide? Any memorable project so far?
At Nadjoa Beads, we make fabric necklaces, fabric brotches,fabric slippers and fabric earrings. We also make beaded necklaces, bracelets, earrings, slippers, beaded bags and also offer training services to people who have interest in acquiring some skills in beading.
We have had many projects but the most memorable one was when I got the opportunity to train street children for free as part of my cooperate social responsibility for 2017. Another one was when I got the chance to meet the 2nd lady of our country Ghana for the first time,Her excellency Samira Bawumia at an exhibition. This took my brand to the next level.
Do u think entrepreneurship is the solution to some of the problems on the continent?
I strongly believe entrepreneurship is the solution to most of the problems on the continent. I believe each and everyone has great potential that needs to be nurtured into maturity, using myself as a example, if I never considered or embraced my creative abilities,I never would have known I could be good at doing business . Though I read science, I was open and flexible enough to try and test other areas which I never had in my life plan and that's how I discovered myself.
What is your vision for the next five years? And where do you see yourself as an African entrepreneur?
Our vision for the next 5 years is to become the leading producer of authentic, hand made african jewelry and accessories in Africa and the world at large , by so doing we create more job opportunities and also nurture young and talented entrepreneurs through training.
What would you say is your biggest challenge as an African entrepreneur and why have you not given up?
My biggest challenge as an African entrepreneur is the lack of adequate support, funding and systems to encourage young and talented entrepreneurs. I haven't given up because I still believe in the African dream
What gets you out of bed in the morning and what keeps you up at night?
What gets me out of bed in the morning is God,my zeal to make impact and a difference.
what keeps me up at night is accessing goals accomplished for the day, planning for the future ahead and making changes to yield better results.
There is a saying that "you cannot see chances if you keep doing things the same way"
How did you fund your business and how difficult was it?
I funded my first business with 50 Ghana cedis given to me by my mum.
I bought 50 Ghana cedis worth of materials, worked with them, sold them and reinvested my profit , it continued that way for a while before I started saving.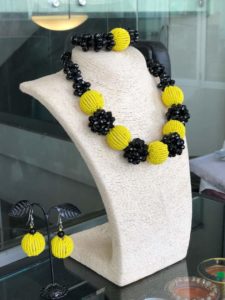 What avenues can upcoming entrepreneurs on the African continent think of with respect to funding?
I will encourage upcoming entrepreneurs to save , plan and to utilize any little opportunity they get, ones you have some money to start, it's very easy to get support from reliable family and friends. Start with the little you have and grow it. It worked for me so why not.
What do you wish you knew before starting your first business?
I wish I knew more about handling business and enterneurship since I was a science student, but I learnt a lot along my way from good and loyal people who helped facilitate my growing process with their experiences in the business field. Am forever grateful.
In one word describe your life as an entrepreneur.
Ambitious
What has been your greatest inspiration?
Nature inspires me a lot, I really appreciate nature. I also source inspiration from the colours and shapes of some of the natural stone materials I work with.
If you had the chance to start again, what would you do differently?
I would have jump straight into beading without wasting any time thinking it was going to work.
What significant advice would you give African entrepreneurs who are launching out?
Be focused and don't waste time doing what competitors are doing. It's a waste of money. Be your own competition, be positive driven and work harder.