Ing. Nana Afua Sarpong is a female
entrepreneur who oversees about 5
companies. She is an astute entrepreneur with expertise in Business Management.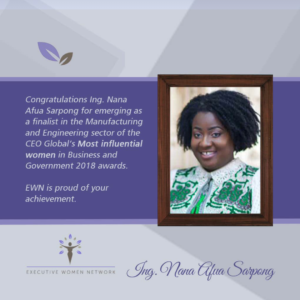 She grew up in Tema community 5, and attended SOS for her primary education, and St. Roses for her secondary level education. She had her undergraduate degree in Civil Engineering, at the University of Massachusetts, Amherst. She had her masters program at the University of Maryland University College, where she specialized in Business Administration.
Ing. Nana Afua began her working experience in the states where she worked with a second largest defence contractor, building ships and
submarines.
She relocated to Ghana in 2010, where she worked with some construction companies including Trasacco before starting her own business. Her desire to become  an entrepreneur begun when she was a young girl, she used to sell Indian almond (abrofo
nkatea) in her local community, and also since both parents are entrepreneurs, it made things easier.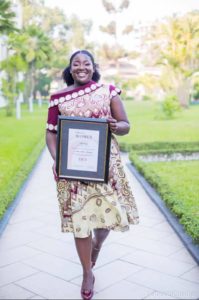 Deciding to major in Civil Engineering didn't come easy, she had initially wanted to study medicine but failed her biology class so decided to stick to what she was really good at, Math and hence Civil Engineering. Her decision
to move to Ghana was as a result of giving back to the nation since it's a growing or developing country. She realized lots of opportunities she
could take advantage of.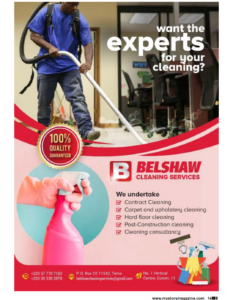 In an interview with
MY STORY MAGAZINE, this is what Ing. Nana Afua had to say about her company:
"My company is KNAS Development Company Limited, it's a design and build company. We offer engineering and architectural designs services, thus (mechanical, civil , construction
and electrical services), and then build, that is where the construction part actually takes place. We are also into residential and commercial services"
The My Story Team also asked her what inspired her to choose KNAS as her brand name, and this was her response:
"KNAS development is actually K.N.A.S where it was named after my siblings, Kwadwo, Nana Afua, Abena Sarpong. . The inspiration came from my family, we are very close siblings, kudos to my parents for ensuirng this"
As a female entrepreneur, she believes
entrepreneurship plays a key role into
development of the country, where
entrepreneurship serves as solutions to most of the continent's problems. She believes these problems can be solved as a result of the creativity of other people. Thinking outside the box, growing their ideas, she believes a lot of people can take advantage of the technology evolution. She had her first  building contract from her mum's friend, amidst the challenges faced, she still persevered and believes that when starting a business, there will be a lot of probono to do. She also believes that as an entrepreneur, you must keep proper track record and develop good financial
modules.
In one word, she sees herself as a disciplined entrepreneur.
In conclusion as a female entrepreneur, Ing. Nana Afua's inspiration is the zeal to leave her legacy behind. She also wants to inspire people to basically go beyond their limit, though her field is a male dominated area, yet her love for Ghana drives her to keep doing what she is doing.
She extends her appreciation to Mr Akwasi Achampong who gave her the  first opportunity to build his house. Mr.Bamfo-(Sikkens), Mr. Kweku
Bediako (Chase Petroleum),Her mum (Mrs. Mabel Sarpong), father (Mr. Kwabena Sarpong), whom she takes alot of advice from, and lastly her husband( Mr. Harold Boateng).