Mr. Eric Kwaku Vlidzo is the head of sales and marketing for Ghanaweb, the nation's premier online platform.
Mr Vlidzo over the past years has been one of the formidable personalities behind the success of Ghana. Enjoy an interview he had with MY STORY MAGAZINE, the one-stop platform for every African entrepreneur.
Inspiring and Building Africa One Story At A Time!
How did life start for you?
It's been a long journey . I lost my dad in 1992, I hadn't completed Junior High School at that time.
As a young boy growing up in a good home, the story changed after my dad's demise. After I completed Secondary School, I was forced to go
to the training college before going to the university because of financial constraints. I had very good grades but I couldn't go to the University
immediately after Secondary School because of the lack of funds.
How old were you when your dad died, and how was your relationship with him?
I was 15 years and my relationship with my dad
was a very close one. My dad was a very jovial person but my mum was very strict.
How did your dad's death affect you?
It affected me in many ways. For instance, I was supposed to enjoy some benefits of Cocoa Board
scholarship but I was denied and some family members conspired to go for his entitlement.
Infact, a rather smooth sailing life turned sour in a matter of days.
How has the relationship with your dad influenced you?
I have become very disciplined and hardworking. I think wherever he is now, he should be very proud
of me. I managed to clone his values; I'm his replica Hahahahaha.
If you get a chance to see your dad for a minute what would you tell him?
I would thank him for the spirit of discipline and the right attitude he's shown me. Because when you
have the right attitude, being disciplined becomes
easy (time management, financial discipline,etc.)
What does discipline mean to you?
Discipline is everything. If you are not
disciplined you cannot manage the
resources you have . Everything about your life that requires management demands discipline to accomplish it. It's a daily routine.
Do you have any personal routine you do everyday that has put you on the path of discipline?
Yes, at 4:00 am I wake up to help my wife prepare food for our son for school. I make sure my clothes are set before the next day for work. I make it a point to be at work before
time.
At what point did you think Ghanaweb was the right move?
I needed an advancement in my career path. I had so much to offer that's why I decided to
switch jobs. I used to work with my uncle. I left in 2010 and joined GhanaWeb as a sales executive
at that time and rose to become a Senior Sales Executive. Before long, I was put in an acting
capacity as Head of Sales and Marketing and subsequently confirmed as the Sales Manager
for the largest online news portal in Ghana –GhanaWeb.
How has it been for you from 1977 (year of birth) till now? How has life treated you?
It's been phenomenal, and the experience has really shaped me a lot. For instance going through training college brought a lot of discipline in my life. Because I used to be very
emotional. But with ethics and principles from the training, I've become a better person. I used to
be shy and couldn't interact with people but now being at Ghanaweb has changed me massively because you get the chance to meet
people from all walks of life especially the elite among the business community.
Have you had any challenges around your role in Ghanaweb?
Yes. When it comes to the services I offer to my clients (online advertising). Especially when you deal with people who are attached to the traditional way of doing things. They don't get the relevance of digital
advertisements.
How have you been able to redefine the narrative in the role you play as a sales and marketing head?
Sales and marketing is all about building, not just relationships, but also the emotional bond between yourself and a client – prospective or
otherwise. Since it's all about outcomes, you need to connect with the people who matter
to you. For people to stand by you ,you would need to build a relationship because at the end of the day it's all about the outcomes.
What moves someone from being a
prospective client to a client is mostly based on the value of your relationship with the person.
What made you buy into the vision of Ghanaweb?
It's a global brand. Over the years it's seen tremendous growth in all facets in terms of the traffic generated on the website. For example,
getting 4 million page views in a day. The whole vision is to build a family. we grow as a team and the teamwork is fantastic here.
Which secondary school did you attend?
Anfoega secondary school
Do you remember the first suit you wore?
That was in 2010, I acted as a best man for my friend.
Favorite food?
Fufu and light soup with dry fish.
What do you think about yourself?
I think of myself as having a bigger
responsibility. As a family man, I don't want my kids to go through the pain I went through. I want to give them best schooling and mentoring as a father.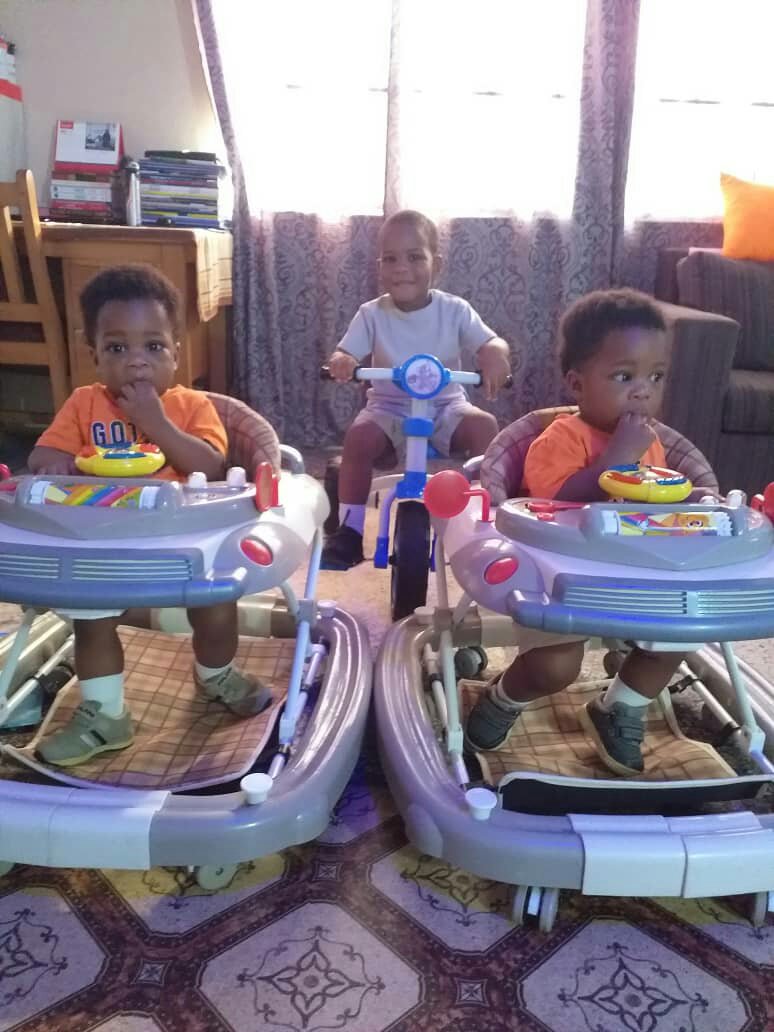 Throughout your story what has been the God factor in here?
God is the ultimate. I remember I used to see people who attended universities as super human.
I continually wondered if I would ever be able to get there. Today, I interact and network with
captains of industries and all those who matter in the business world both in Ghana and outside Ghana.
There is no 'not' or 'unable' with God. Having had all these, I stand grateful to God for everything.
Do you think you've lived your purpose till now?
There's always room for improvement. I believe I have come very far in life but there's so much more to achieve.
What do you want people to get out of your story?
There is one thing; when you fall 100 times that shouldn't be the end. Rise up. God should be key in all that you do and want to do.
It's good to be humble. Respect those who are ahead and learn from their experiences.
Get more productive advice, that will help you build a good life.
Make use of your 24hr clock. It's the only common denominator for all humans – rich or poor, tall or
short, ugly or beautiful etc.
Do you think you are successful?
I am. I appreciate how far God has
brought me and how far I've come.
My aim is to make a maximum impact.
What will be your legacy you would
leave here on earth?
I believe I have to give good leadership to people who work under me.
Your Legacy is your people.
What are your final words. Do you think you are living your best life?
Well I believe an unexamined life is not worth living. I take stock of myself daily. Life without God is nothing. So my very key factor is God. God Himself is everything (time, discipline ), when you
have Him you have everything