Jennifer Brobbey is the CEO and Founder of AppleEye, a Devotional Writer at True Worshippers Inc. She is an Author, Inspirational speaker and a Christian Blogger who loves to encourage, inspire and motivate. Her inspiring posts on social media has brought healing to many based on her Life Experience and the word of God. She is the author of the book "You are the Apple of God's Eye". A book that invites readers to experience the adventures, goodness and fullness of life that God has intended for us.
She is 25 years of age and proudly Ghanaian. A product of Aburi Girls secondary school. She has a Bachelor's Degree in Communication Design precisely Marketing, Advertising and Media Management from Kwame Nkrumah University of Science and Technology (KNUST) and a Master's Degree in Media Management at Ghana Institute of Journalism. She believes the only reason she is alive today is Living to Inspire.
What stimulated your interest in inspiring people. Have you ever had a season where you believed that there was a lot more you could do to help people?
How did you begin and how far were  you willing to pursue this dream?
Well, that happened to me once, I began sharing my quiet time with friends on social media each morning. This was something I was so much dedicated in doing and made sure to share at the slightest opportunity. The joy of inspiring, encouraging and motivating people was a smile of delight which always lit up my face. I had no idea it was the beginning of a dream God had placed on my heart.
A few months passed and I was approached by True Worshipers Incorporated (TWI), a Christian ministry whose true mission is TO INSPIRE HOPE. I was extremely excited and humbled to know that I was given an opportunity to share what God had placed on my heart to the world. I joined the Devotional Department and it brought me much closer to God, improved my writing skills, and taught me how to actually write devotions and inspirations to be a blessing to people. I was surrounded by people who enjoyed God's word just as much as I did with those who loved to share His word to the world. It was and still a great experience to be a part of them.
I never stopped sharing my quiet time even after I joined TWI but this time I changed things just a little bit. I decided to summarize everything in a quote so it'll be easier for people to have an idea of what they'll be reading about. I included images with a short quote on them for their quiet time. The feedback from friends was encouraging. Very encouraging and a few of them shared it on social media.
It took a while to finally believe that there was a lot more I could do to reach people with the word of God. But where do I start? How do I begin? Should I continue to share my quiet time through social media with the few friends I have or I could do more by building an app to reach as many people as possible. The latter was difficult but not impossible. I had no idea how to build an app? Had no experience! No money! Nothing except a Vision!
So by introducing my writings and inspirations onto a mobile app called "AppleEye" which is available on the iOS App Store and Google Play Store. It was my hope that I could reach and help people find encouragement wherever they were.
Don't get me wrong; it hasn't been all rosy! It isn't as glamorous as you might think. It requires hard work! Sleepless nights! Encouragement! There's been times I was very hard up (broke), depressed and ready to quit. But HE MADE A WAY. He brought people my way; great people. Those who are in 'sync' with my vision. Those who will stand and run with me on my mission. 
What are some of the services you provide and any memorable project(s) so far?
AppleEye wants to involve as many people as possible. We believe there are people out there who have the voice and capacity of changing and inspiring the world yet there don't have such platforms to do so. We are giving bloggers and writers that opportunity to feature their blogs on our mobile app. Trust me, they are really inspiring the world! Their write ups are good!
We also send Inspirational Nuggets each morning which includes people's pictures with a Christian quote written on it. The pictures are first vetted by the team and when selected, it's used for public viewing. There are great testimonies and positive feedbacks that gets us motivated at what we do. With their permission, and knowledge, we include some public figures and celebrities like Sonnie Badu, Nathaniel Bassey, Joe Mettle, Luigi Maclean, Toyo baby of Jenifa's Diary Fame, Pascal Amanfo, Jeffrey Nortey, Denzel, AB Kwarteng, Akessie, Brempong, Diana Hamilton, Niella, Evangelist John Sena, Efe Music, Annistar Arning, Chioma Akpatho, Mimi El Bernard Nelson Eshun, Appstle Lyanne Cofie, Afia Rida, John Dumelo, Kukua Asihene, Nona Simone and many others. These people have supported AppleEye and we are very grateful.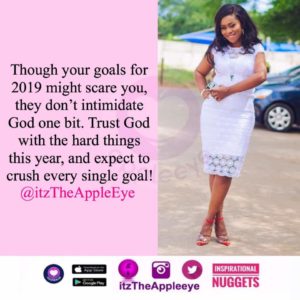 There is also a prayer request feature on the mobile app where people send their requests. They are counseled, given advices and then we join them in prayer.
The new project we are working on now is to give Authors the opportunity to sell their ebooks on our mobile app using MTN mobile money instead of going through the stress of selling and buying their books all the way from Amazon and other sites which request a debit or credit card before purchase.
So you realize that AppleEye involves everyone and is for everyone. No one has been left out. Whoever you are, whatever you do, you can still get involved in AppleEye.
What is your vision for the next 5 years and where do you see yourself as an entrepreneur?
5 years from now, still in the learning stage. Same goes for when it's 10, 20, 30 years down the road. Entrepreneurship doesn't have a destination because the world is constantly changing. But my hope is to create more avenues to help people in society by employing as many serious minded people as possible in different departments who will add value and help to achieve the company's goals. What matters is that you have faith in yourself and genuinely believe you can achieve some great accomplishments.
What would you say is your biggest challenge as a startup  entrepreneur and why have you not given up?
A lot of people will tell you that, it isn't going to work, discourage you or even laugh at you. It's your choice to either listen or ignore and prove them wrong. A negative mind will never give you a positive life! Don't let small minds convince you that your dreams are too big. Definitely, successful people have fears, doubts, and worries! But they just don't let those feelings stop them. With this mind set, surround yourself with people who will encourage you, believe in God's given vision and people who will help you stand on your feet when you feel defeated. So never give up!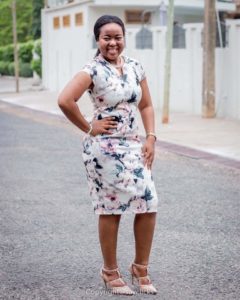 What gets you out of bed in the morning and what keeps you up at night?
The fact that I am an inspiration to many people, the fact that I need to work on the Nuggets and blogs for the next day because when I miss a day of posting, people come asking what is wrong because they are expectant of the message God has for them. Many lives depend on this God given work I am doing.
How did you fund your business and how difficult was it?
I didn't need a lot of money to start, I just needed to be faithful with what I was doing for God in order for Him to take me to the place He wants me to be. He will bring the right people to you.
And He did bring the right people who believed in what I was doing and willing to support me financially. I didn't have to force the door open or convince someone to be good to me. The people God has ordained to help you, He's already prepared their hearts. I also saved up some money to work on a few things but I believe what is important for an entrepreneur to start is a VISION! A lot of people have thrown their vision away because they had little faith in what they can become or people might have discouraged their ideas. Do not despise small beginnings. God will never forget you or pass you by! "Remember, the snail still made it to Noah's Ark! You will get there too!! You will make it! You will excel!"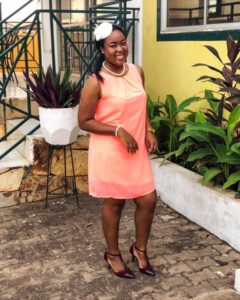 Yes! You've been working on a project for a while now but you're stuck. Don't quit! You may have a lot of ideas running through your mind but don't know where to begin, Just make an effort and start with the little one. The little idea can help you move to the bigger one. Once there is a vision, God will make provisions for it.
What has been your greatest inspiration?
Zechariah 2:8 has always been my source of inspiration and that "No matter what life throws at me, I am still the apple of God's Eye and God would not leave me hurt."
What significant advice would you give to young social entrepreneurs who are launching out ?
Don't give up because of what people said. Use it as a motivation to push harder. I remember when I thought of coming up with my mobile app, I had lots of discouragement and negative response from people. They doubted my dream and idea. But I still stood firm in my decision and believed that God had put a dream in my heart that I had to fulfill. I believed that if people are to achieve and create their own mobile app, what makes me think I can't also do same! Probably God has put a dream in your heart and you are thinking of how you are going to fulfill it, just remember that the same God who put that dream there, will make provisions for you and see you through. Don't sit there and wait until you get all the resources or money before you start. Start now! Start praying about it! Don't allow people's negative response stop you from what you have to do! Once God has said yes, their opinions don't matter!